MoU intends to foster active cooperation between private entities, Governments, institutions involved in enhancing capacity building of two countries in  field of ICT
Delhi, Dec 17
H.E. Nguyen Manh Hung, Minister for Information and Communications, Vietnam  on Thursday visited the Ministry of Electronics & IT, Government of India and met Minister of State for Electronics and Information Technology & Skill Development and Entrepreneurship Rajeev Chandrasekhar.
They exchanged views on various initiatives being taken by the two countries to boost digital economy and agreed to further enhance ICT Trade & cooperation between the two sides.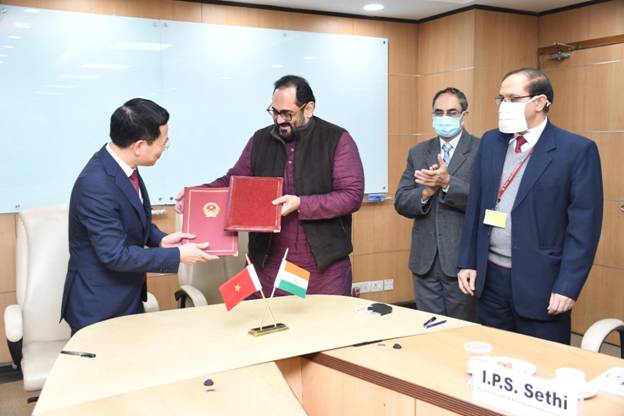 An agreement to extend India- Vietnam MoU on cooperation in the field of Information Technology was also signed by the two Ministers during the visit. The MoU intends to foster active cooperation and exchange between private entities, Governments, institutions involved in enhancing capacity building and other public and private organizations of the two countries in the field of ICT.
Minister Shri Rajeev Chandrasekhar mentioned that India under Digital India Programme has made some rapid digitalization efforts in the last 19 months to overcome the distress caused by COVID-19 pandemic. India's IT services sector, Digital Government initiatives and the fast emerging tech startup ecosystem have shown resilience and maturity not only to meet the challenges of this pandemic but are now role models for other developing and less developed countries.
The two Ministers agreed that though there has been an active engagement between India and Vietnam over the last few years but there are vast possibilities to explore for further cooperation. The similar objectives of Digital transformation under Digital India programme& Digital transformation Vietnam can further enhance cooperation and digital trade between the two sides.