new education complex in Jammu: Union Minister Dr Jitendra Singh has laid the foundation stone of the new education complex named after Pandit Madan Mohan Malviya in the Central University of Jammu campus and said, Central University Jammu is one of the first Central Universities in India to have such an educational complex named after Shri Malviya.
He said, Pandit Madan Mohan Malviya and Dr Shyama Prasad Mookerjee were among the leading academicians of the first half of 20th century but their contribution somehow did not receive the amount of recognition that it deserved and, therefore, this is a befitting tribute. He also recalled that recently he had the honour of inaugurating a hostel complex in the premises of the same University named after Dr Shyama Prasad Mookerjee, which is possibly the first Block named after Mookerjee in any government University outside Kolkata.
Dr Jitendra Singh said that Jammu is fast emerging as North India's Education hub and it is a rare instance that within a radius of less than 100 kms, as many as over dozen important professional and higher educational institutions have come up, including AIIMS, IIT, IIM, two major Universities namely Central University and University of Jammu, four medical colleges including AIIMS, two Government run Engineering Colleges,  as well as the upcoming North India's first Biotech Technology Park cum Research Centre and the Bamboo Technology Training Centre through Ministry of Northeast.
With the constitutional changes that took place after August 5th, 2019, Dr Jitendra Singh hoped that the biggest impediment in attracting the best of faculty from across the country for these educational institutions would be overcome. He said, the standard of any institution can be maintained only when there is total professionalism and no compromise in the selection of scholars on the basis of merit and when the institution is ready to facilitate and incentivise best of the faculty from all over to come and take up teaching assignment. In this context, he again referred to Pandit Madan Mohan Malviya and recalled that even in those times, Malviya had succeeded in persuading Dr S. Radhakrishnan to give up his teaching job at Oxford and come back to take over as Vice Chancellor of Banaras Hindu University (BHU).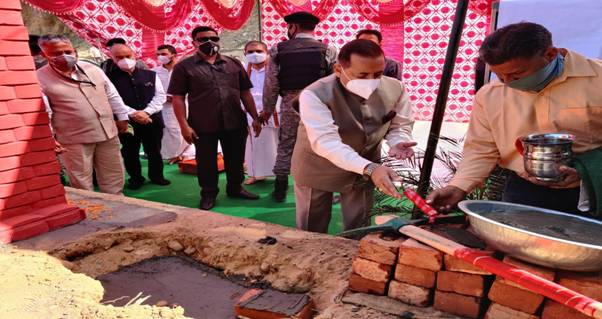 Dr Jitendra Singh also informed that through the Department of Space, North India's first Space and Research Study Centre has been started at Central University Jammu and Dr. K Radhakrishnan, a world renowned Space Scientist who is also known as the father of Mars Mission, has been appointed as the Advisor.
For any educational institution to receive a wider recognition and identity, Dr Jitendra Singh said, there are essentially two prerequisites. Either there should be extraordinary faculty which could produce research publications of international level or there should be exclusive Departments of Study which are not easily available.
Vice Chancellor Prof Ashok Aima, in his welcome address, spelt out the various landmark achievements of the University in the last few hours. He also mentioned Dr Jitendra singh's constant support in pursuing all the new projects at the Centre.
Prof Aima also referred to the Govt of India's recently sanctioned Centre through DRDO.